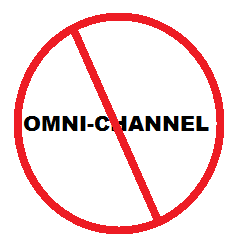 The entire retail channel is ablaze these days with talk of Omni-channel retail. Who's doing it right, what are the best logistics strategies to support and the like.
Well those of you who know me will agree that for a retail guy I'm really not that much of a shopper. And funnily enough on two recent store visits to different retailers in the Greater Toronto Area I experienced not one but two abomni-channel retail trainwrecks.
Recently I went to a store in Newmarket around 4 pm to get two products with my son. He had seen the products on the retailer's website and site did not say it was only available online so we went to store to pick one up.
After going to the appropriate department and looking for first product did not see it and waited couple minutes for someone to come by.
When they didn't I went to Customer Service desk and asked for help. She contacted someone on her headset and then I went back to appropriate Department to wait.
After 10 minutes no one had come and shortly thereafter saw another lady walking by and asked her for help as well, she again radioed and then still no one came.
After 5 more minutes passed, another lady walked by and I asked her for help. She said just because we saw on website didn't mean they had in store, might be web only, so I then asked her if she could check if that was the case. She agreed to do so but it was clear she didn't want to and was not happy about it behaving like we were putting her out.
She went over to a terminal and we helped her find the item (which still didn't say it was only available online), but she said her store didn't have it but we could just go home and buy it online.
My son wanted to pay with his debit card and she said that it had to be credit card on website, but likely they would have the product in Barrie (30 plus minutes away) if we wanted to drive up there?
I said no way did I want to spend an hour driving to Barrie and back, couldn't she just order it to be delivered to our house and my son pay her with debit card?
She said no, only way she could do that was if we picked it up at the store, but really didn't want to do this and suggested again we go home and order online.
Thoroughly frustrated by this point, we just gave up and decided we'd go somewhere else for the first product and then went over to look for the second product he needed. Needless to say the retailer didn't have the right product and the guy suggested we go to another retail store where I thought I'd get the first product which unfortunately closed 5 minutes earlier at 5 pm. (so we still don't have either product at this point)
While walking away I explained to the sales guy the dilemma on the first product and debit card, he said that was simple to solve and told us to just go buy giftcards at cashier with debit card and then go home and use the giftcards to order online. Not an optimal solution, but at least he offered us a potential solution.
After tweeting about my dissatisfaction at this retailer that evening, the next day they contacted me back and after sending email with above sad abomni-channel tale, they got the product to the store for pick up in a few days at a significant discount.
The scariest thing about this story is that on the conference and blogging circuit this retailer is considered to be an emerging leader in Omni-channel customer experience. Obviously from this experience that's more spin and marketing than reality in frontline salesfloor deployment and training.
My second experience was much simpler and even more telling when it comes to how even a simple fix can make your retail stores more effective in helping customers. At another big box retailer I went in with the wife looking for a specific DVD she wanted to buy. After browsing through their DVD section and not seeing it, terrible organization unfortunately we asked the sales associate if he could look up if they even carried the title she wanted. He said no, he had no way of doing that.
This slightly perplexed me as he was surrounded by running demo models of computers, so I just asked him if he could bring up a browser on one of them, go to their company website to check? He said no he couldn't do that and even if he wanted to the computers were locked down from the internet. So at this point with the wife groaning behind me I whipped out my mobile, searched their website and found the video, after showing the guy it was an item they had he just shrugged and said it didn't look like they had one there. Suffice it to say that with a bad taste in our mouthes from this abomnichannel experience we didn't get the DVD there and this resulted in a lost sale which an effective omni-channel response at store level could have easily recovered.
In the end, delivering a true omni-channel customer experience is more than just having a plan and technology to support it. It's also a people thing with needed culture change and a significant training component to ensure the 1000's of frontline sales associates understand and can execute with the customer.
Jeff Ashcroft